We are located at 25 Winooski Falls Way on the East end of the Spinner Place building in Winooski, Vt. Adjacent to the studio is a large parking garage located at 20 Cascade Way, hidden by a facade of retail spaces and apartments.
After 5:00 p.m. and all day on weekends, the first 3 floors of the garage are open to the public for parking. Each space has a sign indicating public parking after 5:00 p.m. Parking rates are $1.00/hour or $5.00 for 12 hours. Pay stations are located next to the elevators on the ground floor & 3rd floor, they accept credit cards and coins. Please note you will need to enter your license plate into the pay station.
Winooski Parking App
WayToPark is the app that makes payment for your parking easier and quicker. You pay for and, when necessary, extend your parking session directly in the WayToPark app!
Parking Map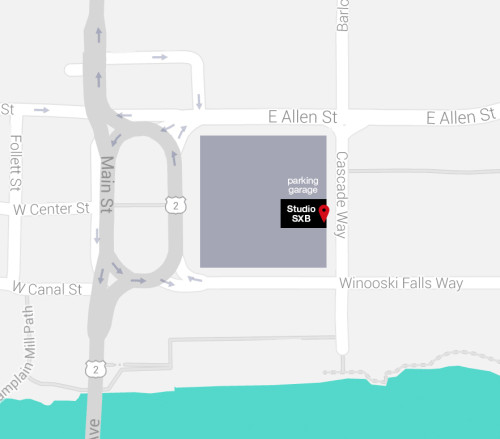 Save
Save
Save