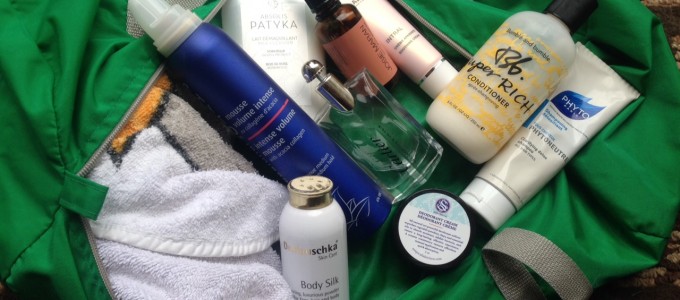 10 Best Luxe Products For Your Gym Bag
I discovered this face cream several years ago during the cold dark dry winter. My usually clear complexion had gotten very red and irritated. I went to one of my favorite local beauty boutiques and this cream came highly recommended. It was love at first application. It has only the faintest smell, clean, and not in a toxic Tide kinda way. My face went back to its happy place and regained its even skin tone. I use it in both summer and winter. This would be a good pick for either fair skinned ladies and gents who's faces get red during a work out and those with acne prone/ sensitive skin.
---
I was introduced to this brand several years ago by a good friend. After doing some research I discovered this brand was ridiculously clean and shared my common interest in organic and ethically sourced ingredients.I stopped by my salon recently to buy shampoo and lo and behold everything from Patyka was on sale. I yelped and without even looking at the price tag bought a bottle. I am so in love with this creamy, velvety face wash. My sweat drenched skin, which will from time to time gets whites heads around my hairline and on my forehead (damn you running in a hat!) was clean and soft and somehow more glowy.
---
Listen to me when I say that you will never find a better natural deodorant.
I stopped wearing chemical deodorants some time in my very early 20's. I hated them, they smelled so fake and I really don't  think its a good idea to assault your lymph system day in and day out with such harsh chemicals. So began my search for a natural deodorant that worked. I searched and searched and searched. I tried different combinations of powders and deodorants, and yet nothing worked. That was until the fateful day I came across this gem.
OH MY GOD.
It worked so well I was like, this can't be natural. Thats when I enlisted my hunk of man meat to test it out. He's a big boy with big smell, if it was gonna fail it would fail on him. He nearly fainted when at the end of test day one not only did he not smell but he smelled good, in a natural kind of lavender kind of way. Within a week he demanded I buy several more so that we will never run out. Finish reading this post and go buy some.
---
I know, you're probably like who the eff needs luxe body powder? This girl. I'm gonna get personal, I chafe. On my thighs and where my tank hits under my arm when I run. I'm a delicate flower. With ingredients like diatomaceous earth and silk powder you can't go wrong. It relieves chaffing, keeps your body dry, works amazingly to absorb oil and smell from your hair and in pinch could be used as a face powder for oily skin. I love it and can't live without it. Its unbelievably expensive($34) and I definitely can't always afford it but when I can I buy 2 at a time and put it all over myself.
---
My older sister had purchased a huge bottle of this and found out that it made her skin breakout like crazy. She was visiting me and offered it to me if I liked it.
Best. Oil. On. The. Market.
Its clean, has basically no smell(as anyone knows some argan oils can smell really awful), is ethically sourced and easy to apply. Skin is left hydrated and not slimy or oily. Just soft and hydrated. It is a multi purpose item for me, for my face before moisturizer in winter, for my body after too much sun and on the ends of my hair overnight. Everywhere.
---
I have used this clarifying shampoo for close to 10 years. I thought about not putting it on my list because Im not sure I want to share its awesomeness. It has the kind of scent that tells you it is working to do something amazing; slightly medicinal, slightly herbaceous. I don't wash my hair very often. Usually 3 times a week. If its the dead of summer and I've worked out like crazy, I might wash it more than that, maybe…  This workhorse makes it all ok. I wash, I rinse, I have awesomely clean manageable hair. And most importantly my scalp isn't itchy.
---
Here it is short and sweet, this is an all around great conditioner. Its heavy enough to give some weight to my wavy thick hair but doesn't weigh it down. Decent smell and price point. I use it every time I wash my hair. Sometimes I leave it in for my entire shower and it makes my hair like silk.
---
This is another product that I have been using for close to a decade. Easy to use, smells great and the ingredients are halfway acceptable. I will layer this with either a curl cream if its humid or some oil if its very dry. My hair is never crunchy. I love that it keeps my frizz in check and doesn't weigh down my strands.
---
I have a deep love of perfumes and colognes. I really believe I could have been a perfumier in another life. I like that different smells can create different moods. There's something intriguing about the play between masculine and feminine. I love how the right sandalwood mixed with right rose can set off an olfactory overload and send you to another time and place. I tend to wear several different perfumes at different times of the year. At the moment I am mostly obsessed with this one. Its light enough for summer and has some serious balls in its dry down. This is not a scent that you leave behind when exiting a room. This is a scent that begs you to get close to somebody. Its the scent of skin, only better. Its good on men and even better on women.
---
Awesome all around MVP of soaps. Men, use this after working out and women will flock to you like crazy. I started using bergamot soap years ago when my celiac disease had not been diagnosed and I was covered in  a rash( I now know it was Hereptiformis dermatitis). I did some research and discovered that bergamot had all sorts of medicinal uses. Its Antibacterial, anti-inflammatory, analgesic, antidepressant, anti-infectious, anti-parasitic, antiseptic, antispasmodic, digestive, hormonal support and sedative.  Antibacterial, anti-inflammatory, analgesic, antidepressant, anti-infectious, anti-parasitic, antiseptic, antispasmodic, digestive, hormonal support and sedative. The soap eased my discomfort and I love the smell. It leaves the skin clean and fresh.
Read more