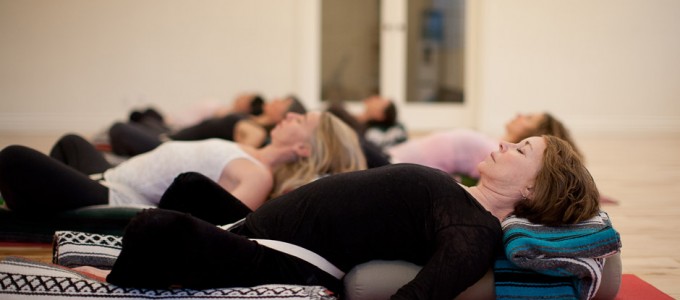 What Goes Up Must Come Down
I love the "up".
I live there, teach there, practice there.
"Up" allows me to be here and now and yet not at all.
But here's the thing…
What goes up, most come down.
A person cannot live in a constant state of "up".
Embracing "the down"
Before I began practicing and teaching restorative yoga, I was constantly focused on being "up". In fact, I'm not certain I even considered the possibility of a "down" state existing.
But, I always had this nagging feeling that this constant "up-ness" I lived by was not sustainable.
Through restorative yoga, I have learned the value of being down, coming down, and even…gasp…enjoying "the down".  It provides a juxtaposition to my typical state of being.  My life is the yin; Restorative yoga, the yang.
Discovering Restorative Yoga
Restorative yoga has been an evolving practice for me that has spanned nearly a decade.
I attended my first class because I was "at the end of my rope".
I was a full-time waitress and my body and mind were spanked, done, finished.
I was tired and irritable.
My patience with myself, and others, was nonexistent.
In the hopes of reversing or counteracting the negativity, I began attending more "power" yoga classes.
Hey, it's yoga. It calms you. Right?
Wrong.
I was so wrong.
What I came to realize was that my body and mind needed time to just be, to release, to find ways to finish on going conversations in my head.
Through supported poses, I found calm for my overused and sore muscles.
Through breathing practices, I found recovery and an understanding of the need to train smarter, not just harder.
As a result of my practice, I found that I now recover better after intense workouts and weeks.
I found that as long as I find my "down"…every once in a while…I can go up exponentially.
Read more